The Railholiday Green Page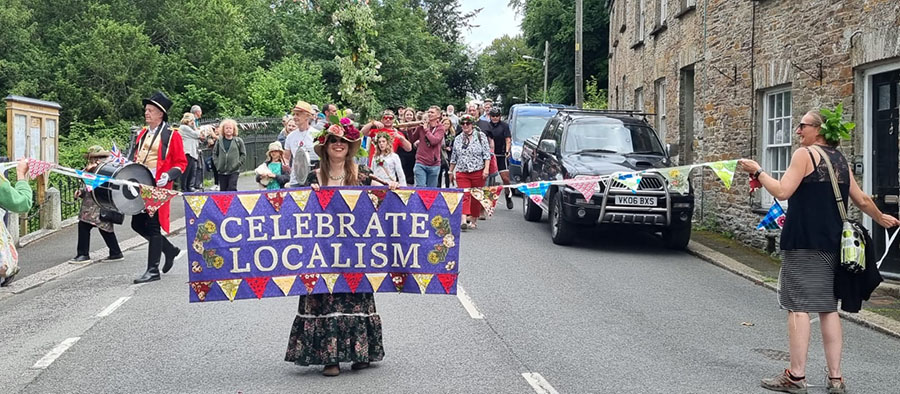 Heating with Wood
|
Carbon Offsetting Options
|
Food and Drink
|
Green Cleaning
|
Natural Gardens and Ecological Growth
|
In the Office
|
Public Transport and Travel
|
Communication
|
Recycling and Waste
|
Conserving Water and Reducing Pollution
|
Social and Charity Work
|
Sustainability
|
Awards
|
Staff
|
Accessibility
|
Looking Forward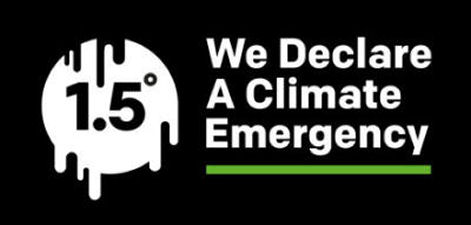 We try and run Railholiday as sustainably as possible. On this page we show what we and our guests are doing to bring this about.

The video above was made a few years ago, but is a good snapshot into our sustainable approach. Since it was made Millpool has been completed and offers fully accessible holiday accommodation. However our latest project, a carriage built for Queen Victoria's royal train, is looking in a similar state as we repair the frame with chestnut from our woodland. We have also installed heat pumps in the Travelling Post Office and Harvey in Hayle, and commissioned the local artist Brian Hoskin to create new signs for our woodland trail, that local printer A2Z Print has printed on di-bond boards for us.

As a company we have declared a Climate Emergency, and will endeavour to do all we can to minimise our impact on the environment.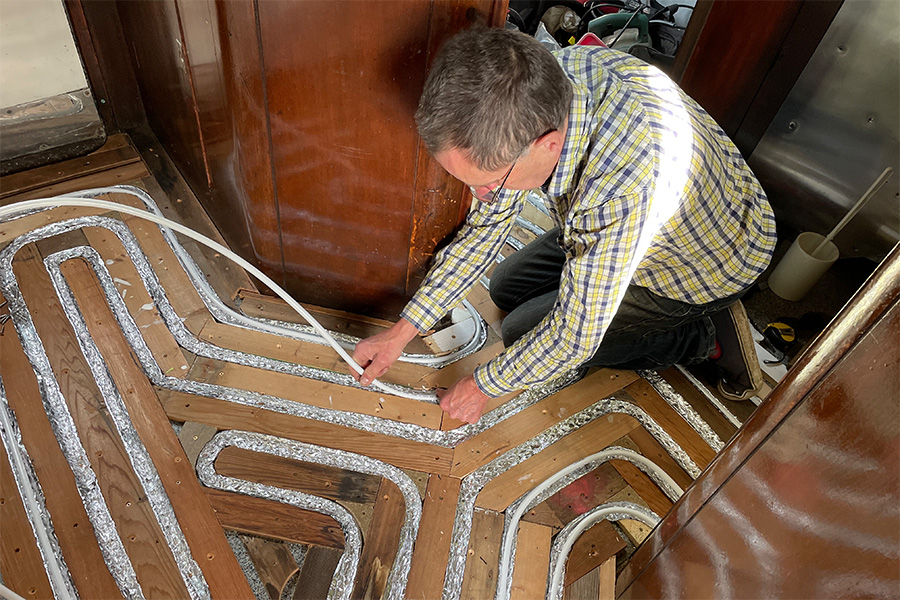 Energy
We have been on green energy tarrifs from when they first became available, and constantly review who is offering the greenest deal. However all energy comes at a cost, so we also strive to keep energy usage to a minimum. We hope when you stay you will help us to be green by turning down the heaters and turning the lights off when you go out. In return we will continue to prioritise and monitor our energy usage. Here are a few things we do;
Heat pump fitted in the Travelling Post Office in 2022, to supplement the heat from the woodburner.
In 2023 we fitted an air-source heat pump to replace the gas boiler in our carriage Harvey of Hayle. This has been a massive project, taking place over several months, as we had the very fiddly job of laying underfloor heating on top of the existing floor and resize all the doors. We reused wood palings from a redundant fence to create the channels for the heating pipes.
The electricity for all carriages is run on national renewable energy schemes and sourced from Good Energy and Octopus Energy who offer all their electricity from renewable sources.
Low energy bulbs are used in all carriages.
All heaters are fitted with thermostat regulators.
All coaches are insulated and this is a priority when converting our new coaches.
In the amenities area, lights and sockets are on a sensor.
All coaches in St Germans are heated with wood.
Any new appliances we purchase are chosen for their A or A+ energy efficiency rating and made in the UK where possible.
Any new items come at an environmental cost, so we work on the policy that goods should be kept in good order and kept going for as long as is practical.
We try to buy the best quality our budget will allow, so we have longevity from products.

Aiming for Net Zero
We believe it is important to minimise our environmental impact, so in November 2022 we employed Emily to analyse our carbon use and working out ways we can achieve our target of net zero by 2030. Our first audit (year 20-21)can be seen here.

Emissions are divided into three categories: Scope 1, 2 and 3. Scope 1 are emissions that are released on site (eg. burning wood, gas or fuel for the cars), Scope 2 are indirect emissions from purchased energy, and Scope 3 is from purchases. For further information, The National Grid explanation of Scopes is clear and concise. Because we rarely drive, and burn our own wood for heat, our Scope 1 emissions are low (4.23 tonnes). This includes the gas we were using at Hayle. Since this audit we have lowered our Scope 1 emissions further by fitting an air-source heat pump at Hayle, which is powered by renewable electricity. Our scope 2 counts as zero because we only use renewable energy in our carriages and office. The majority (24.87 tonnes) of our emissions are Scope 3; our purchases. We are also aware that guests travelling to us add hugely to our carbon footprint.

We have been working on reducing our emissions by:
Writing to our suppliers asking them what they are doing to reduce their carbon footprint.
Increasing diligence in our purchasing, and working out ways in which we can avoid buying new.
Running a guest travel questionnaire, to see how we can encourage less guest miles.
Talking to our staff, and encouraging them to learn more, so that they can also input ideas into ways we can reduce our carbon spend.
Investing in an electric bike that is also available to our staff, to reduce car journeys further.
Providing an EV charging point for guests that do come by car.
Replacing our petrol mower with an electric rechargeable one.
Installing a heat-pump in Hayle so we no longer need gas.
Continuing to commit to our make do and mend policy: mending as a first option, buying secondhand if this is not possible, and as a last resort buying new, but choosing goods for their environmental and social provenance (eg local or fair-trade wherever possible), longevity and energy efficiency.
Heating with wood
With ten acres of woodland it makes sense to heat our carriages with wood to help reduce energy use in winter. We've invested a lot into wood fuel in the last few years, buying a state of the art wood burning biomass system to heat the carriages on our site. At the moment Mevy and Millpool have very effective central heating powered by the biomass boiler. The pipes are run through our unrestored carriages to keep them dry and catch any heat lost in transit.

We have also installed a wood burner in the Travelling Post Office as well as the Old Luggage Van. There is an added bonus for us - year round warmth means happy guests! (And there is something rather wonderful about snuggling up to a fire after a bracing walk around the countryside...). All our wood fuel is seasoned for several years under cover until its moisture content is below 20% to ensure that it burns cleanly and creates very little smoke.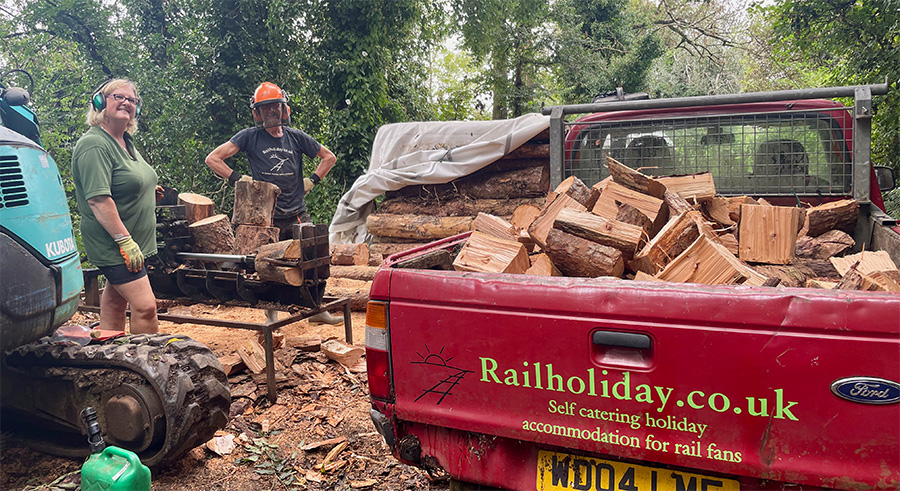 Carbon Offsetting Options
We offer options to offset your holiday carbon use. For £25 we will plant a tree for you, and also double the value of your donation by adding a further £25 to our tree planting fund. In addition to planting trees on land we own, in the last few years this fund has helped to fund community orchards in St Germans, Moor Barton and Loveland, Penryn.

Do take a look at our carbon offsetting page to see what our guests have funded.

All trees funded by our tree planting scheme would otherwise have not have been planted. This is very important to us.

In addition to our tree planting fund, we also plant hedges and trees to offset our own carbon. In the last ten years we have planted well over 2000 whips and young trees spread over the sites we manage; our ten acres of woodland, the carriage gardens and the 38 acres of family land near Landrake, a self-declared autonomous republic know as Pommania. Many of the hedges and trees are now quite substantial.

Come by train, bus, bike, sailing boat or on foot (all of these are possible, both St Germans and Hayle in Cornwall are well connected) and we will knock £50 off your holiday!

Green Cleaning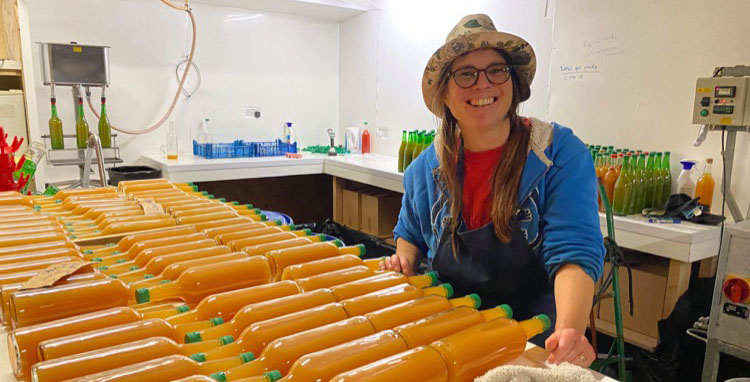 Food and Drink
With Lizzy's dad having a small holding growing cobnuts, walnuts and Cornish varieties of apples for apple juice, we know all about what goes into making quality local food, and couldn't imagine offering our guests anything other than the best. Therefore all the food and drink in our welcome packs is sourced locally. Typically we may provide:

Natural Gardens and Ecological Growth
Lizzy admits to becoming a bit of a garden fanatic, ready to bore anyone with information on positive pollinator planting and organic gardening methods. The farming background is coming in handy! However we have discovered that a green approach to gardening really works and we are proud of our beautiful gardens; we have won Caradon in Bloom's award for the most wildlife friendly garden for several years. You can see more about our approach to gardens on our Gardens page or read our Wildlife Blog.
In the Office
Good practise starts at home, and in the Railholiday office this is no exception, so we:

Public Transport and Travel
Here at Railholiday we strongly believe in the joys of public transport and for this reason have chosen sites for our carriages beside working railway stations. Lizzy is actively involved in the St Germans and Area Public Transport Users Group, having just stepped down from five years as chair.

We have an EV charger. However given that there is a big carbon cost in any new car, pollution is created by tyre dust and wildlife is killed on the roads and less cars means safer roads for cyclists and walkers, we passionately believe the way forward is through greener forms of transport. In order to help our guests to escape the queues and enjoy the countryside by catching the train, bus, walking or cycling we:
Offer guests a £50 cash back incentive if they leave their car at home.
Have written a book of day trips by train, which is provided in each carriage.
Supply up to date timetables.
Send information on day trips by train and timetable information to guests with their second booking confirmation.
Help fund the publication of the rail timetable leaflet.
Provide a comprehensive Transport web page, with useful links to public transport information.
Provide walks leaflets and books, plus local OS maps in our carriages.
Catch the train to Hayle to do our gardening and maintenance work, only needing to drive down a couple of times a year. (It's amazing what you can transport on a train off-season!)
Actively promote attractions that are accessible by train, foot and bike.
With the Public Transport Users Group Lizzy organises regular surveys, to provide information to First Great Western and keep St Germans station on the map. Below is a video Lizzy made for the group's last survey
Communication
We believe information is a powerful tool against climate change. We are committed to share our ideologies by:
Writing a Nature and Environment blog.
Sending an annual newsletter to our guests and preserved railways with green tips to try at home.
Provide guests with take-home tips in our Green Guest handout.
Having wildlife information boards on display in our woods and around our carriage sites.
Writing for our local parish newsletter.
Writing an Environment column for the Saltash Voice.
Giving talks on the environment and writing, performing and publishing environmental poetry.
Making banners and taking part in environmental demonstrations and marches. Lizzy loves to make a costume and a banner, and has been dressed as a hornet, an English crayfish, a beaver, a drift net, a hedge and many more, while Dave can been spotted in a crowd with his Tax Carbon Now flag. We've been to the G7 in St Ives, the XR demos in London, a Surfers Against Sewage action in Plymouth, Cop 26 in Glasgow and many more. We find it is a great way to meet other passionate advocates of action against climate change.

Recycling and Waste
We recycle on a grand scale, taking derelict carriages and giving them a new lease of life, using wood from our own woodland wherever possible, local labour and craftspeople. We are rather proud of the end result. Here is a little more information.
At Railholiday we practise a system of Reduce, Reuse, Return and Recycle. We are very proud that in 2023 we managed to bottle all 537 bottles of our home-grown apple juice in reused bottles, tops and boxes many of which have now been used multiple times.
All carriages are provided with composting bins - we use our own compost on our gardens.
We take part in regular Rame Peninsula Beach Care litter cleans, as well as always doing litter picks whenever we go to the beach, and posting about them using the #2minutebeachclean tag to encourage others to do the same.
We reuse wood from all sorts of sources; mahogany from old kitchens, or picked up from the beach, or oak from old oak pallets. We are often delighted when a guest or a friend (the two are usually interchangeable) comes with a boot full of reclaimed wood for us to repurpose.
There are excellent facilities for recycling in all carriages. There is an inside bin in all carriages for glass, plastic, paper, card, cans/tins and clear instructions on what to do with the recycling. We use Devon Contract Waste, who have a strong commitment to the environment.
Conserving Water and Reducing Pollution
We have a drought tolerant policy of gardening. Pots are only filled with drought tolerant flowers like perlagoniums and agapanthus. Lawns are never watered. We only water young trees and shrubs until they are established and flower beds are only watered as an absolute last resort.
We have multiple water butts around all sites.
All toilets are fitted with water saving devices and the toilets at St Germans are fed with grey water from a well.
The bathroom taps in the carriage at Hayle are the original push and pour type, so cannot be inadvertently left on.
Showers are fitted in all carriages.
We use green cleaning products; Delphis polish and washing-up liquid, Ecover cream cleanser and DuoMax sanitiser surface cleaner.
We do not use sprays on our gardens, woods or orchards.
We are involved with regular beach cleans.
We have been campaigning to get the railway to reduce lighting after midnight at St Germans station. So far without success, but we keep trying!

Social and Charity Work
Having been in the village for thirty years and Lizzy for considerably longer, we are quite use to stepping in to play music for events, building display boards, balancing books, making rafts, trees and giants, being on the various village group committees and more often than not ending up as chair or treasurer, plus all the other fun things that make village life. We also actively play a part in the wider railway community. Here are a few of the ways in which we are involved:
Lizzy is actively involved in the St Germans and Rame Area Rail Users' Group, committed to raising awareness of the local rail service and carrying out surveys to assess public transport usage and championing the cause of St Germans station at a local and national level. Lizzy has been involved in the group since being an inaugural member in 2006 and in 2023 has just stepped down from a five year stint as chair
Dave has been the treasurer for the St Germans' Village Community Shop Project, helping to set up the shop, and Lizzy is now a voluntary member of staff.
Dave is the treasurer for the May Tree Fair - an annual village weekend of activities, with processions, bands and much more, that we were founders of about ten years ago. In 2022 we sponsored the toilets for the village activities on the recreation ground and intend to do so again in the future.
We also are regularly involved in fundraising for a variety of local and National charities, including St Germans School, The Railway Children and the RNLI.
We have donated holidays to The Railway Children, the Cystic Fibrosis Trust, The Campaign for Better Transport, Action for South Africa, Avon Valley Railway, Bodmin and Wenford Railway, Children's Hospice South West, St Petrocs, The London Transport Museum (for their educational fund) and the Nene Valley Railway. We estimate our donations over the last few years have raised well over £20000 in total for these charities.
We annually donate a holiday which pays for St Germans youth club's Christmas party.
We play in a band Wurlitza giving old silent films a new lease of life with a new live music soundtrack. Lizzy also plays in various other collaborations often performing for charities, including for the school, the May Tree Fair, the local youth theatre group, the WI and more.
Because there is no longer time to practice music teaching and run the business, Lizzy now volunteers for Livewire Youth Music Project. In this way she still able use her passion for education and music in a socially and personally enriching way. And Lizzy's Tuesday evening shift at Livewire finishes at just the right time to be able to enjoy live jazz at The Union Inn, before catching the last train home!
We encourage our staff to volunteer. Nicki helps at the Covid Vaccination centre in Liskeard and volunteers at Torpoint Library helping run a friendship group. Bob regularly volunteers at his local school.
We hold occasional community open days for the village, raising money for charity; the local Rail User Group, St Germans Village youth groups, the Cornwall Wildlife Trust and the Railway Children have all been supported. Our most recent open day was in at the end of January 2023 and raised over £500 for charity. The video of one latest open day is below.

In the past we have offered work experience for students with an interest in tourism and Lizzy has done talks on sustainable tourism to Camborne College students, Cornwall Wildlife Trust and Tamar Valley Tourism Association. One of our proudest moments has been seeing our apprentice Ben go on to work at Lappa Valley and become a director at Plym Valley Railway.
Lizzy is an ambassador for the Coast Project's Heritage and Environmental Growth schemes, spreading the word about local heritage and positive pollinator planting.
We have planted a community orchard of apple, pear and quince trees in St Germans, and funded orchards at Moor Barton and Loveland Penryn.
We are members of the carriage restoration group RailC, spreading and receiving advice about all things railway.

More Sustainability
The premise for the Railholiday idea is one of sustainability - converting redundant coaches and giving them a new lease of life, and in many cases saving them from being destroyed. We are careful to keep as much original material as possible and wherever possible use salvaged material in the conversion work. In addition, we also:
Are a holder of the South East Cornwall Tourism Association's Green Acorn Award for Sustainable Tourism.
Are a business member of Cornwall Wildlife Trust.
Attend sustainability seminars and constantly re-appraise how we can improve our green record
Lizzy is an ambassador for Coast Project and will happy to help you with any sustainable queries you have - call me on 07776 261192.

Our Awards
We began applying for awards several years ago and have found the application process enormously helpful in greening our business and would highly recommend anyone wishing to become more sustainable to apply.The feedback has been so useful to us.Our highest moment was probably winning the Visit England award for the most sustainable tourism business of 2016, but we are are equally proud of our success in the Cornwall Sustainability Awards, and winning the iTravel self-catering accommodation in 2021 on account of our environmental approach. Visit our Awards Page for more information.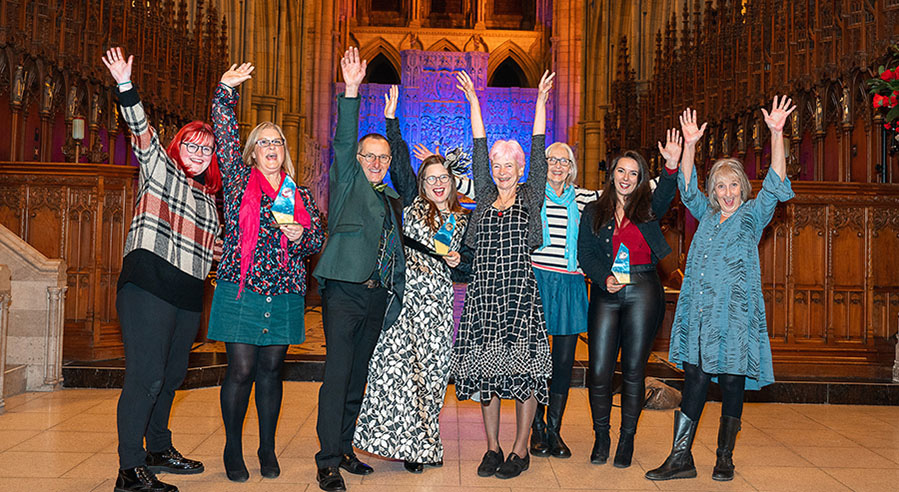 Staff
We are a certified living wage employer. We believe in equal opportunities; our staff are chosen for their positive qualities and their loyalty is impressive; most of our staff members have been with us for well over a decade and Bob, Harvey's caretaker, is now in his 23rd year. We have a flexible staffing arrangement, ensuring plenty of cover for changeover days so that should a staff member need time off there is never any problem covering this.

As a team we share ideas and expertise, and make sure everyone has a say. In this was we can discuss environmental concerns and any other issues that might come up. We do this by having Feedback Fridays at cribtime on our main changeover day, when everyone is encouraged to talk about anything they have problems with, and to share good ideas.

The video below shows some of our staff. It doesn't include everyone; our latest employees include three new members. Sarah, who has autism and has helped us enormously in our understanding of additional needs, is in charge of cleaning the games room, filling the log stores and de-cobwebbing the railings. Emily is helping us in the office with our quest to reach net zero and, after a career in oncology, Hodgkin's sister Glad has joined our changeover team and is a font of knowledge for all things medical. All are valuable members of our work community.
For a more in-depth look at what happens at Railholiday on changeover days do have a look at the tongue in cheek video What Do People Do All Day? at Railholiday, St Germans, Cornwall.
Accessibility
We are committed to being accessible in all areas of our business. This includes:
Being an equal opportunities employer.
Making sure our carriages offer the most accessible experience they can. For this reason we have ramped access to The Travelling Post Office and Mevy and a fully accessible carriage Millpool with completely level access.
Providing mobility aids, including toilet risers, easy-grip cutlery, toilet surround, shower chair and bathroom stool are available on request.
Providing high chairs and cots on request.
Making our carriage Mevy pet free, to help allergy sufferers. Hypoallergenic bedding is provided in all carriages.
Printing our information for guests in medium-large print. It is a bug-bear of ours when things are tricky to read! Extra large print copies are available on request.
Providing a deaf smoke alarm that is available on request.

More can be read on our Accessibility Page.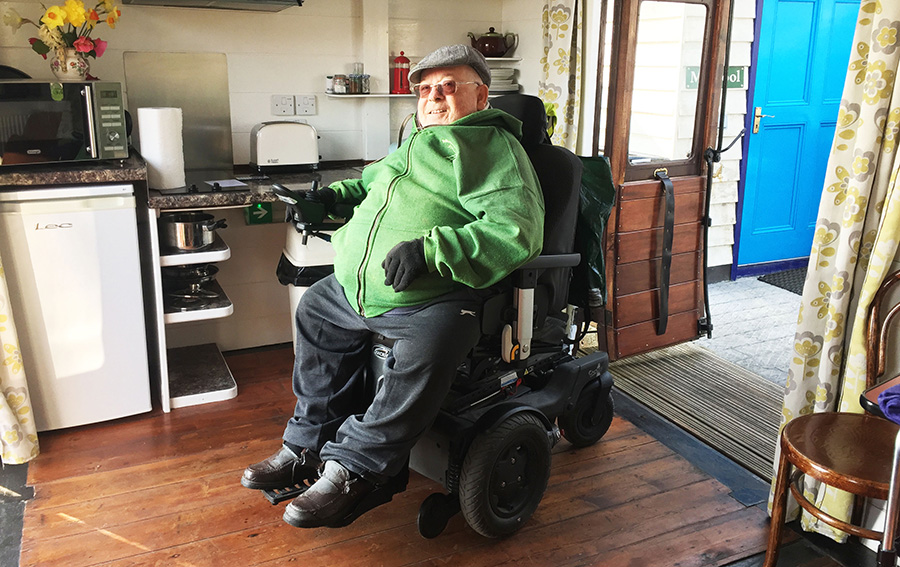 Looking forward
We were quite pleased to find that our list of things to do in the future of two years ago has been pretty much completed. However there are always ways in which we can improve; the more we do, the more this seems to be. It is our intention to continue greening our business. Our targets for the medium and long term are now:
To continue to work towards BCorp principles, using the assessment tool to find areas we can improve.
To spend time working out the maths of our carbon footprint, including guest miles to us, to ensure we are true in reaching our carbon neutral goal.
To work on improving our walking, cycling and Day trips by Train pages.
To replace all old appliances with more energy efficient ones, once they are no longer usable.
To fund more community orchards and to continue planting hundreds of trees each year.
To continue to find ways of sharing our knowledge with others. We are currently talking to our local primary school about them using the woods as an educational space.
To expand the varieties of native broad leafed trees in our woodland.
To put up more bird and bat boxes, and keep up the system of laying log piles each year.
To expand our nature trail to include information about fauna and fungi.

Railholiday is commited to being a sustainable tourism business. As part of this we offer a £50 cashback for guests arriving by train or who live within our local TR/PL/TQ/EX postcode areas. Our carriages have the added benefit of free broadband internet access.



Back to TOP

Contact Railholiday by email at office@railholiday.co.uk or by phone on (+44) 01503 230783. ©