Mevy
The Victorian Slip Coach holiday carriage
St Germans - Cornwall - PL12 5LU
Our holiday carriage Mevy has been finished to the highest standard and has several features unique to the coach, including a sumptuous first class bedroom compartment, a proper bath with ball and claw feet and a traditional cooker in the kitchen.

Unlike the Old Luggage Van and the Travelling Post Office, Mevy doesn't have a wood burner, but is very warm in winter as it is centrally heated by our wood fuelled biomass boiler. We do the work so you don't have to!

Mevy is suitable for allergy sufferers as it is pet free and has hypoallergenic bedding. Please let us know if you would rather we didn't put in fresh flowers! Mevy will sleep up to five, so is good as both a romantic retreat for couples, or for families with young children.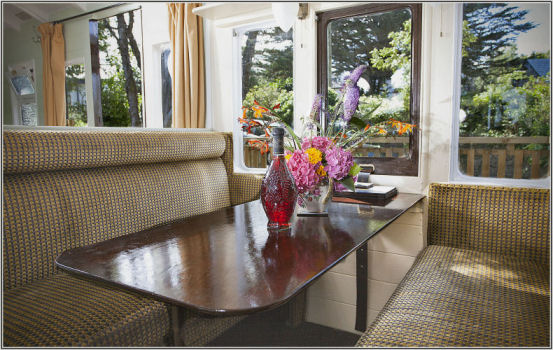 Outside there is a private deck, perfect for long summer's evenings. There is private car parking and access to the children's play area and games room. The view from the carriage is stunning - over the river Lynher to rolling fields - and with binoculars you can see trains coming through the cutting on the other side of the valley.

Guests in Mevy have access to our ten acres of private woodland, with winter snowdrop walk, nature trail, bluebell, garlic and summer flowers and sweet chestnuts in autumn.

St Germans is in the Tamar Valley Area of Outstanding Natural Beauty. Its location on the river Lynher with its Site of Special Scientific Interest status makes St Germans the perfect base for your bird watching, cycling or walking holiday. Furthermore, the railway station and Railholiday are within the beautiful St Germans Conservation Area. The coast with its beaches, fishing villages, magnificent cliffs and coastal footpath is only a short bus or train ride away. For more about St Germans and South East Cornwall, please visit our St Germans page.

Mevy has a unique character. Slip coaches were put at the back of fast trains and uncoupled on the move by the guard, who then brought the carriage to a halt in the station. Because they had to cater for all classes in one coach Mevy has first, second and two third class compartments, as well as a guard's room.
Mevy is 38 feet by 8 feet and offers the following facilities :
1st class double bedroom with Italian velvet upholstery, maple and mahogany panelling and English gold gilding
Second bedroom with bespoke triple bunk beds - two smaller bunks 75 cm wide by 175cm long and one full length, 75cm wide single bed
Kitchen area with fridge, electric cooker and microwave
Lounge diner with TV/DVD, DAB radio and re-moveable table
Real flushing toilet, roll top bath with shower, washbasin and shaver socket
Ample central heating included in holiday price.
Garden area and deck with seating and BBQ facilities
Free broadband internet access
Free on-site car parking space
Laundry facilities and deep freeze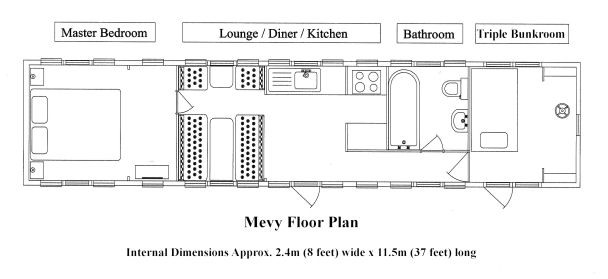 Please follow these links for more about the Carriage Inventory, Accessibility, Visitors Comments or the History of the carriage.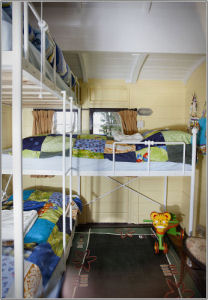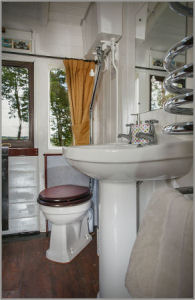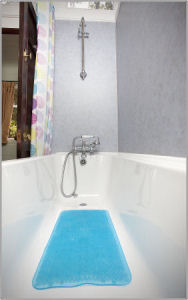 To see what has gone behind the scenes to make Mevy so special, and where we have sourced our materials, please scroll down to the bottom of the page, or click here.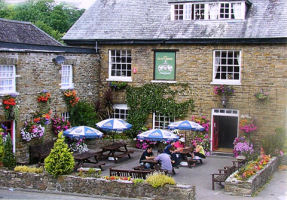 St Germans is a small village with a population of 600. Only a 5 minute walk from the carriage is Scholars (01503 230600), a great bar and restaraunt repurposing the characterful village school dating from 1894. Also in the village, The Eliot Arms (01503 232733) serves Cornish ales and food and is adjacent to the
St Germans Community Shop and Post Office, (01503 232887) a general store with an excellent range of stock including food, household supplies, newspapers and magazines, local products, alcohol and tobacco amongst many other things. The shop is open 7 days a week.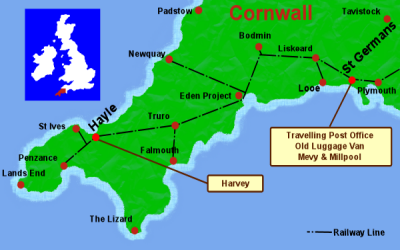 The railway station at St Germans was built in 1858 to a design by Brunel. Although the main railway station building is now lived in by your hosts, the platform is still in use - served by over 20 stopping trains per day each way including some direct London, Cardiff and Bristol trains.

The St Germans Public Transport Users group produce a Train Timetable for St Germans - or you can like St Germans Rail Users Group on Facebook for the latest news and up to date information. For much more information on St Germans and the environs, please visit our St Germans page.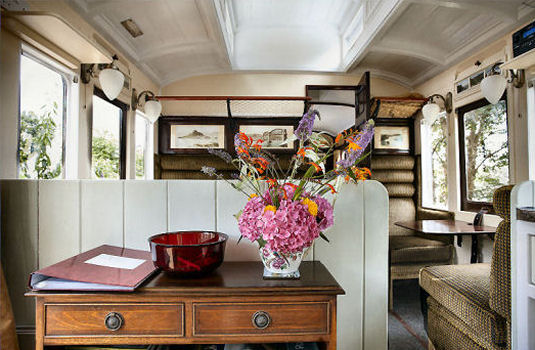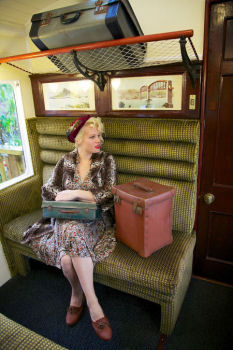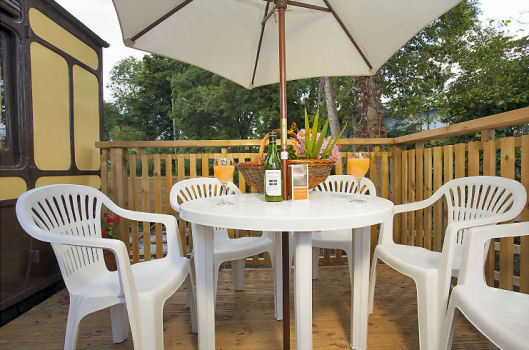 Mevy - our sources
Staying in Mevy is a very special experience. We've done our best to make sure the work is of the highest standards.

Before Mevy the GWR Slip coach was kindly sold to us it had been held in secure storage for many years at the South Devon Railway in Buckfastleigh. We are grateful to all those people involved in preserving this body in the past and saving a piece of history. We have ensured that our restoration of this coach is of the highest quality and carried out in the most sustainable manner possible. We have deliberated at length over the eco credentials of each part, from phoning material suppliers to hours spent researching hand made nets and eco paints. We were lucky enough to have good television exposure from Wall to Wall's Holiday Home Sweet Home and Michael Portillo's Great British Railway Journeys, which have doubtless helped us in achieving our aim.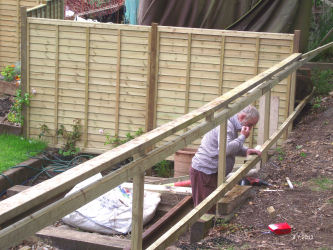 Exterior
All wood used is FSC certified and carefully chosen for longlevity and quality. Scaffold boards for the temporary platform were salvaged from a local yard
Wood for the panels and windows - Totem Timber, Plymouth
Fences and gates - Bond Timber, Trerulefoot, Cornwall
Plants - Tartendown Nursery, Landrake, Cornwall
Turf by RG Moore, near Saltash, Cornwall. 01579 350704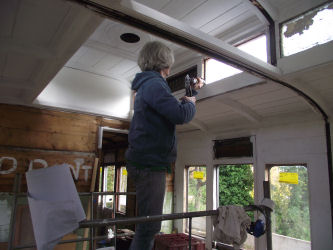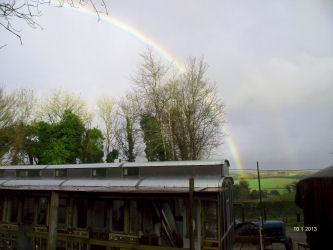 General
Curtains and all upholstery - Luscombe Upholstery, Newton Abbot, Devon.
Curtain Material - fire retardent, made from a mill in Lancashire and supplied by Just Fabrics. online.
Bespoke metal work - curtain poles and Luggage Racks - Paul Ager, St Germans, Cornwall.
Art work by Brian Hoskin, St Germans, Cornwall.
Hand made nets by Bridport Nets.
Odds and ends Screwfix and Trago Mills, Liskeard.
Plumbing by Mike Eastment, St Germans.
Electrical work by Richard Elliott, St Germans.
With paints, wherever possible we've gone for low VOC and have used a variety of paints from Nature Paint, Hayle, Cornwall, Breathe Easy satin finish paints from Crown and Dulux exterior and interior gloss.
Windows - Westcountry Glass, Saltash.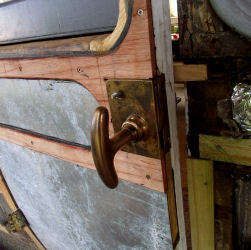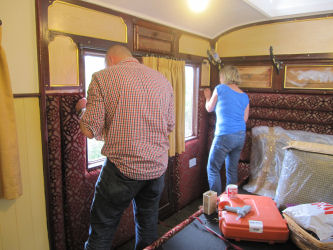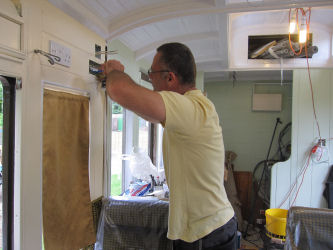 Bedroom
Gilding equipment - Stuart R Stevenson.
English gold leaf - Habberly Meadows.
Gilding Advice - Sarah James of Essential Decoration.
Upholstery - Luscombe Upholstery.
Fire retardent treated upholstery material by Kobe - made in Italy. Supplied by Custom House Design Topsham, Devon.
Pure digital clock radio - H.B.H.Woolacotts, Cornwall.
Bedside Cabinets - Bedside table - Trerulefoot car boot sale run by the Liskeard Lions and upcycled by John.
Wool carpet - by Axminister, from Trago Mills, Liskeard.

Lounge and Kitchen
Upholstery - Luscombe Upholstery, Newton Abbott.
A rated cooker - Beko and A rated Fridge - Lec from John Lewis.
Carpet - from Saltash Carpets.
Roberts digital radio - special order from H.B.H.Woolacotts, Cornwall.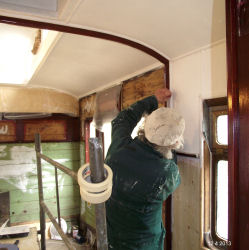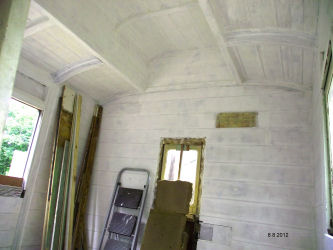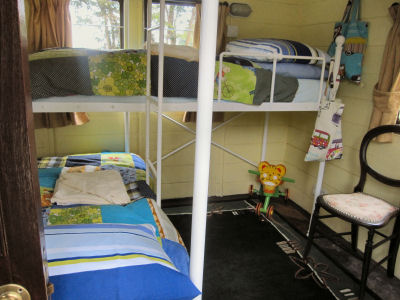 Bathroom
Bathroom fittings and fixtures from The Bath Store Plymouth.
Bespoke brackets by Paul Ager, St Germans, Cornwall.
Respertex Panels by Wignells, Newton Abbot.
Bedroom 2
Bespoke beds by Paul Ager, St Germans, Cornwall.
Patchwork covers made in house with materials from charity shops, donations and from Trago Mills, Liskeard.

A big thank you to our team of willing helpers of friends and family - John Stroud, Nic Watts, Ben Patrick, Kath Revell, Lil Lanyon, Tony and Frankie Lister, Paul Ager, Lara Kleckham, David and Emma Lock, Katy Havelock, Clare Abbott, Walter and Poppy Stroud, Selina and Paul Luscombe, Fiona Sneyd, Brian Hoskin and all those who have helped along the way with time, moral support and childcare!
Back to TOP

Contact Railholiday by email at office@railholiday.co.uk or by phone on (+44) 01503 230783. ©