The Travelling Post Office
The spacious lineside holiday carriage with a stove
St Germans - Cornwall - PL12 5LU
The Travelling Post Office offers fine self catering holiday accommodation with lots of character, sleeping up to four comfortably, or up to 6 using a sofa bed in the lounge. It is located on a railway siding adjoining the station platform at St Germans, in South East Cornwall, UK. There are fine views of passing trains on the adjacent GWR Plymouth to Penzance main railway line and over the Lynher valley. The Travelling Post Office has a wood burning stove, as well as electric heating with all fuel included. Pets are welcome and will enjoy the enclosed garden and the ten acres of private woodland just a few minutes walk away. Our pets page has lots of pet freindly places in Cornwall.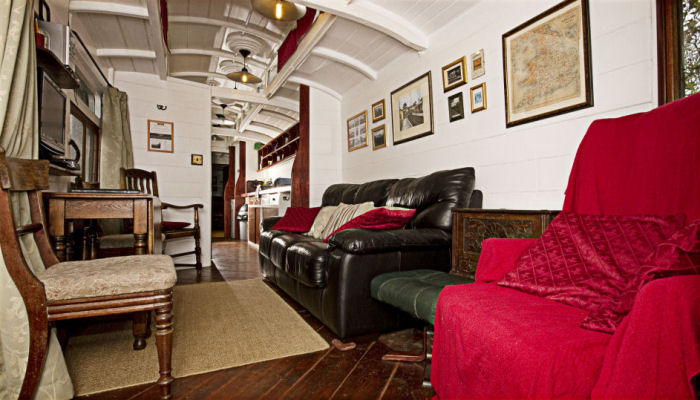 As with all our projects, we have aimed to combine authenticity with all the comforts you could wish for on holiday. The TPO is very well equipped, with a comfortable double bedroom, bunk-room (with views through the clerestory windows!), wc with shower and lounge diner with a leather sofa bed. A cot and children's toys can be provided on request. The TPO still retains its original letter boxes, and letters can be posted through the garden side box. We have designed the interior to reflect its original purpose as a mail coach, and of course all the usual Railholiday touches, such as our Cornish welcome pack and variety of interesting games and railway books are included. Visit the St Germans page for pictures and more about this beautiful area.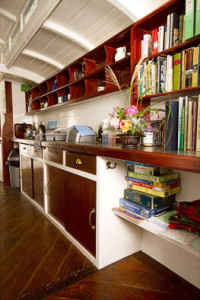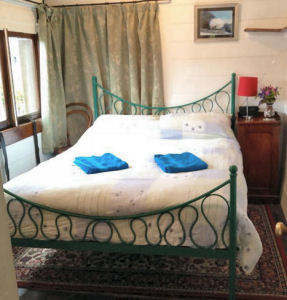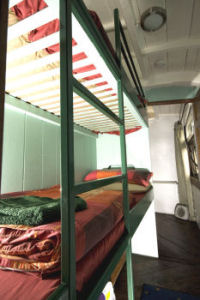 The TPO measures 47 feet by 8 feet and offers the following facilities :
Flushing toilet with washbasin, shaver socket and shower
Galley kitchen with fridge, hob and microwave with convection oven etc
Double bedroom with bespoke wrought iron bed frame and DAB radio
Bunk room with 2 bunks c/w safety bars (top bunk suitable for child or agile adult only)
Lounge diner with TV/DVD and hi-fi, fireside chair, double sofa bed and wood burning stove c/w kettle
Enclosed garden area with seating and BBQ facilities
Free on-site car parking space
Ample electric heating. All logs and electricity are included in holiday price
mains electricity, water and drainage
Use of childrens play area, games room with air hockey table, washing m/c and dryer, freezer, swing ball, etc
Unrestricted free WIFI or wired broadband access
Please follow these links for more about the Carriage Inventory, Accessibility, Visitors Comments or the History of the carriage.
Travelling Post Office no 841 began its life as a standard gauge body on broad gauge bogies, with three passenger compartments, a sorting area, gangway, mail bag net and four delivery arms. It was numbered 2086. In 1896 the compartments were removed to increase the sorting area, and the vehicle was renumbered 841. In 1904 it made history by being pulled behind the City of Truro when it made its record-breaking 100mph run. Perhaps it held the gold bullion? More regularly it was used for Bristol to Penzance runs until it was taken out of service in 1934, after which for many years it formed part of a house in Wales. For more on the the history of the TPO click here.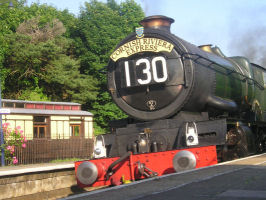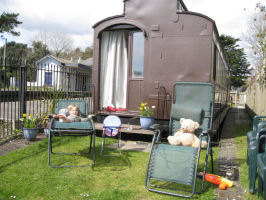 Click here to book your holiday in The Travelling Post Office on-line now or check availability and prices.
If you prefer, we are pleased to accept telephone enquiries and bookings at any time on 01503 230783.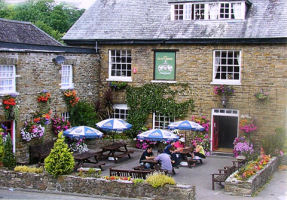 St Germans is a small village with a population of 600. Only a 5 minute walk from the carriage is Scholars (01503 230600), a great bar and restaraunt repurposing the characterful village school dating from 1894. Also in the village, The Eliot Arms (01503 232733) serves Cornish ales and food and is adjacent to the
St Germans Community Shop and Post Office, (01503 232887) a general store with an excellent range of stock including food, household supplies, newspapers and magazines, local products, alcohol and tobacco amongst many other things. The shop is open 7 days a week.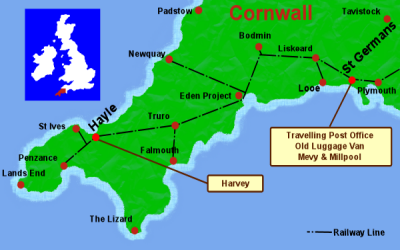 The railway station at St Germans was built in 1858 to a design by Brunel. Although the main railway station building is now lived in by your hosts, the platform is still in use - served by 12 stopping trains per day each way including 3 direct London trains.

The St Germans Public Transport Users group produce a Train Timetable for St Germans - or you can like St Germans Rail Users Group on Facebook for the latest news and up to date information. For much more information on St Germans and the environs, please visit our St Germans page.


Mail by Rail Web Sites
Mail by Rail - photos and history of the Mail by Rail story
Mikes' Railway History - The Western Postal - details about the postal service in the 1930s
Mikes' Railway History - Driverless Subway Trains carrying the mails under London's streets - about the Post Office Tube between Paddington and Whitechapel, which was built with the object of speeding up the distribution of letters and parcels between the railway termini and the principal district post offices
The TPO and Seapost society - caters for all who are interested in Travelling Post Office and Maritime (seapost/ paquebot/ naval) philatelic material, whether as a main collection or as part of some other collecting field


Back to TOP

Contact Railholiday by email at office@railholiday.co.uk or by phone on (+44) 01503 230783. ©